Yorkshire is England's largest county, located in the North of England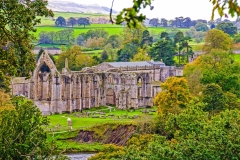 Bolton Abbey, technically a priory - an Augustinian Priory - was established in 1154 beside the River Wharfe between Ilkley and Burnsall. The owner of Skipton Castle at the time, Lady Alice de Romille, gave the land to Augustinian priests and their Prior to build a priory. After four hundred years, in 1539, the priory became a victim of the dissolution of the monasteries by Henry VIII.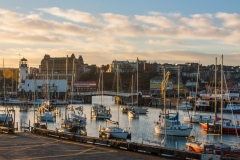 Scarborough is a seaside resort on Yorkshire's East coast in England. As a holiday destination it has everything a holidaymaker or day tripper could want. Two magnificent bays lined with golden sandy beaches, linked with a bracing promenade around the headland, a castle, hotels and restaurants. Scarborough's harbour is home to fishing boats and fish market, pleasure boats and private yachts. Lots of public parks and shops galore.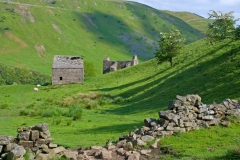 The Yorkshire Dales is a National Park in Yorkshire - England's largest county. Set in beautiful, rolling, verdant green hills and dales. Crisscrossed with picturesque dry-stone walls that take no notice of steep valley sides. The lush meadows are peppered with field barns, often in a state of delightful, photogenic neglect. A walk among the fells and riverbanks can, surely, never fail to please, especially when the lure of a cosy, welcoming Yorkshire Dales village pub beckons at the end of a wonderful day in the countryside.